The 1900 Storm: Tragedy and Triumph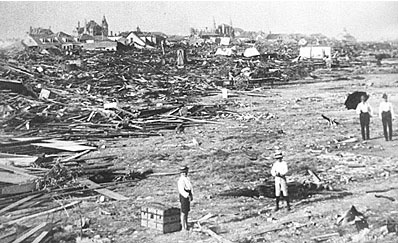 A few surviving structures, seen in the distance, tower
above the destruction. Associated Press file photo.
Before the storm
In the years before the great storm of Sept. 8, 1900, Galveston had grown from a small settlement on the Texas coast into one of the wealthiest cities in the country.
Its natural deepwater channel made Galveston the most important seaport in Texas. Trains carried cargo to and from the port, and ships traveled across the seas.
In fact, more than 70 percent of the country's cotton crop at the time passed through the port of Galveston, and some 1,000 ships called on the port annually.
The wealthy from throughout the state and country visited Galveston to bathe in the warm waters of the Gulf of Mexico.
The shallow waters made it easy for bathers to wade safely several yards offshore and enjoy what was considered to be a therapeutic bathing in the Gulf. At the time, the entire stretch of the beach was level with the surf. The Beach Hotel, which burned before the 1900 Storm, was a vacation destination.
The city was home to about 37,000 people. Galveston, with its wealth and prosperity, was home to numerous firsts for the state, such as first electricity and first telephones.
But the same characteristics that made the city attractive to its residents and guests left it vulnerable to disaster.
"That same proximity to the sea that made Galveston prosper changed Galveston forever," said Macdonald, a descendent of a 1900 Storm survivor and author of a driving tour about the history of the storm.