The 1900 Storm: Tragedy and Triumph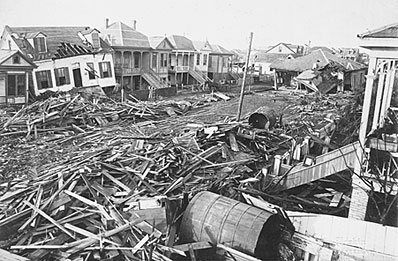 Debris litters an island avenue in this photo taken by Melvin Verkin
in the days following the storm. Courtesy of Paul Verkin.
An island washed away
It had been suggested before the 1900 hurricane that a seawall be built to protect the city from high tides and storm surges, but because the city had not been seriously hurt by hurricanes before 1900, the residents developed a sense of security.
Even as the waters began to rise on the morning of Sept. 8, 1900, residents continued about their daily business. Children played in the flood waters, which began rising as early as dawn.
When Cline, then chief meteorologist of the U.S. Weather Service station in Galveston, began his observations about 5 a.m., he noticed gulf water creeping over the low ends of the island.
From atop the National Weather Service bureau, which was at 23rd and Market streets, Cline watched storm swells rise, the barometer drop and the winds grow stronger.
According to his memoirs, he knew at that moment of impending danger. He rode up and down the beach on his horse urging visitors to go home and residents within three blocks of the beach to move to higher ground.
In 1900, higher ground was a relative term. The highest house in the city was at an elevation between 8 and 9 feet.
But even Cline's warning would prove fruitless as the night approached. By the peak of the storm, no part of the island remained dry.
"In reality, there was no island, just the ocean with houses standing out of the waves which rolled between them," Cline wrote in his memoirs "Storms, Flood and Sunshine," (1945, Pelican Publishing).
Throughout the day, Cline sent telegraph warnings to the Weather Service's central office in Washington, D.C. But by midafternoon, lines went down, and he could no longer relay messages.
He walked home through deep water and found refuge with some 50 people at his house near the beach.