Documentary: The Great Storm

The Nation's Deadliest Cataclysm
Within the last two or three years, people have begun to think that the islands and peninsulas along the Texas and Louisiana Coast are unsafe for human abiding places. And Galveston Island is but a waif of the ocean, liable at any moment of being engulfed and submerged by the self-same power that gave it form.
-- Braman's Information About Texas, 1858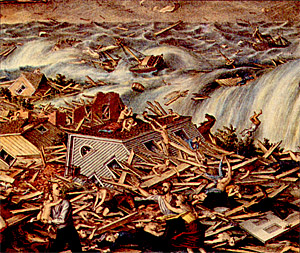 No one will ever know how many lost their lives in Galveston in the Great Storm of 1900. The best estimate is that at least 6,000 perished. It was the most awesome natural disaster in our history as a nation.
A major center of commerce, with a population of 40,000 at the turn of the century, Galveston was the most important seaport in Texas and poised for greatness in the new century. Then, on September 8, 1900, came a hurricane of such fury it drove an angry ocean before it, covering the island from Gulf to Bay and laying waste to the city by the sea.
Now, in an amazing and powerful show, the story of the Great Storm has been captured for all time as a tribute to Galveston's indomitable spirit.
The Great Storm
A multi-image documentary experience, 27 minutes in length.
Visit the Pier 21 Theater for current show times and prices.
PIER 21 in Galveston
21st Street at Port Industrial Boulevard
Tickets and Information: (409) 765-7834 or (713) 280-3907