The 1900 Storm: Tragedy and Triumph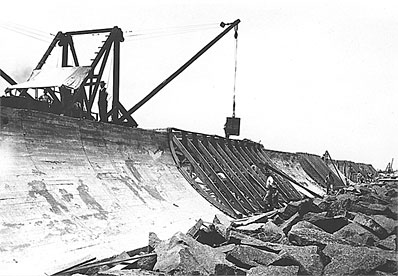 The construction of Galveston's Seawall
Rebuilding a city
What makes the story of the nation's greatest natural disaster so unusual is the incomparable optimism of its survivors. For the most part, residents chose to remain in Galveston and rebuild the city they so loved.
"It's not only important because 6,000 people died Saturday night in Galveston, but because the others stayed," said Mike Doherty, chairman of the 1900 Storm Commemoration Committee in Galveston.
And it was those who stayed who built the city that survives today.
Almost immediately after the storm, a committee of residents was convened to plan for the future. Committee members developed the plan to clean up the debris, bury the dead and rebuild the city. These city leaders set out not only to rebuild but to make a better city.
To prevent future floods, city leaders devised a plan not only to build a seawall along the beachfront, but also to raise the grade of the entire city.
Every part of the city would be raised to a level that would be less likely to flood. The elevation of the city was raised about 16 feet at the seawall and gradually sloped toward the bay. The slope dropped one foot in elevation for every 1,500 feet from the beach.
More than 2,100 buildings were raised on jacks. The elevation of the land beneath them was raised by pumping in sand from the bay.
Catwalks were built connecting houses and buildings, and canals were dug through town to allow the dredge barges to bring in the sand.
In 1911, area businessmen raised money to build the Hotel Galvez as a symbol of the prosperity that had returned to Galveston since the storm a decade before.
The city was determined not only to survive, but to grow. That attitude is seen in longtime residents whose families survived the storm. Despite economic recessions and depressions, declines in the shipping industry and changes in the overall economy of the island, there remains a sense of optimism of what Galveston could become. If the city could survive the storm, it could survive anything, or so it is said.
Indeed, the city survived, rebuilt and withstood hurricane after hurricane since that night. No storm since could compare to the intensity of the 1900 Storm.
While no one wants to imagine a storm that could match the strength and lasting effects of that one, any future storm, no matter its devastation, will be compared to the benchmark of Texas storms — the Great Storm of Sept. 8, 1900, in which 6,000 died and 30,000 survived to tell the story and rebuild the city.